A fashionable current in the territory where critical theory touches pop culture is a renewed, expanded, and re-oriented notion of the Hauntological. This philosophical concept originates in Derrida's Spectres Of Marx, but in its current formulation it is applied to a particular aesthetics of pop music, whilst carrying with it the echoes of its original political context. In a sense Hauntology's ghostly audio is seen as form of good postmodernism, as set against the bad PoMo of a rampaging retroism. Beached as it seems we are at the end of (cultural) history, it is certainly a seductive argument. By foregrounding the processes at the material level (sampling, versioning, deliberately invoking buried/false childhood memories etc) it is contended that such music comes to terms with the deadlock which we face, the inability to properly think the new as such, and makes of this condition something positive.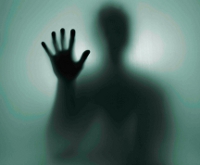 Set against this we might posit an explicitly nihilist aesthetics of pop music, which whilst in some senses would operate in a similar manner, would be crucially bereft of the quality of mourning. It is this regard that Hauntology links to a mood of melancholic defeatism in Western left wing politics. What is noticeable is that beyond merely foregrounding the processes of recording and thereby demonstrating the nature of our time, hauntological musical works are frequently acts of reverent mourning for some better time, for some golden age forever foreclosed to us (be it the Ghost Box label's pre-Thatcher era of socialist government from 1945-1979, or Burial's rave-necromancy). Some of the stronger pro-hauntology arguments have run along neo-Benjaminian lines, holding that it is not merely an act of mourning for a non-reclaimable past, but rather a way of redeeming time, of reaching across possible universes towards parallel utopias, thereby showing us the possible, rather than just the dead-end intractability of our present socio-cultural situation. If all pop music now is a process of mourning the past, (most commonly seen in the retro-necro indie scene, but clearly observable in dance music, hip hop and metal) then hauntology's emphasis on placing that process centre stage is the obvious logical move.
The problem for me at least, is that this is essentially a position of total defeat, absolutely of a piece with the comfortably melancholic disease which has afflicted the left since the 1990s at least. From this perspective, Hauntology is a cowardly move, lusting after utopias that never were, or which are now unreachable, a retreat into childhood/youth, just as trapped in the endless re-iterative mechanistics of the postmodern as the lowest form of retroism, merely in a hyper-self-aware form. In summary, haunology cedes too much ground to what it attempts to oppose, because of an a priori assumption: that there is nothing else, (at this moment in time at least) that nothing else is possible, and as such we are to make the best of this(and that the best we can do is to hint at the possible which remains forever out of reach- with all the pseudo-messianic dimensions this involves). I would position two strands of argument against this: Firstly (if we believe the hauntologists discursive a priori), as I have hinted at above, we might think a more nihilist aesthetic which seeks not merely to foreground the processes of postmodern audio-necromancy, but rather to accelerate the system to its ultimate demise, to speed up the rate of fashion-flux to a point of irredeemable collapse. Rather than an act of reverence, of mourning, of touching at impossible universes from a distance, this would be a deliberate and gleeful affirmation. Alternatively, we might consider Badiou's analysis of the emergence of the new, which would entail a more strategic examination of precisely where the pop-musical evental sites and historical situations exist within our current time: those regions which appear, from the in-situational point of view, to be marginal, and properly undecideable.